20 Instagram statistics every marketer should know about for 2018
Here are the latest Instagram stats from 2017. Use these stats to inform your 2018 social media strategy and see how marketers are looking to expand their brands reach with Instagram.
1. 70% of Instagram posts don't get seen (Sprout social, 2017)
Before the Instagram algorithm update posts were ordered by featuring the newest posts at the top of your feed. Instead, the change brings about an algorithm-driven feed, which is now ordered by what you are most interested in. Brands, in particular, became concerned that their content might no longer be seen.
Consequently, your posts will now be ordered by how popular your post is according to its likes and comments. In addition, if users have an interest in your content or have interacted with you, their posts will also take priority. Your content will also appear if users have searched your profile or viewed your account multiple times. Here are some practical ways you can avoid getting lost in your followers feed. 
2. Instagram has 800 Million users overall (Instagram, 2017)
Instagram has doubled its user base, to 800 million monthly actives in two years, fueled by new features such as stories, shoppable photos, explore pages and many more new features.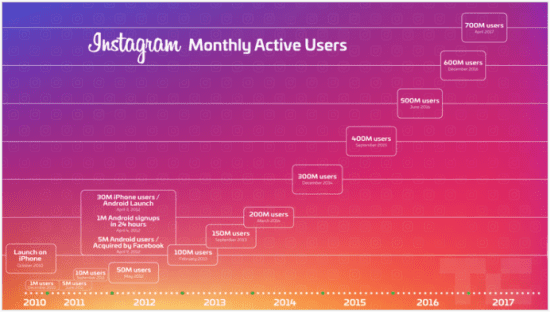 3. 70.7% of US businesses are using Instagram in 2017 (Sprout social, 2017)
Brands are more active and prominent on Instagram than ever. Currently, there are more than 1 million brands sharing and promoting their products and stories on the social network.
4. Beyonce holds the record for the most liked Instagram with her pregnancy announcement which garnered almost 11 million likes (Instagram, 2017)

5. 25% of Instagram ads are single videos (Sprout social, 2017)
While photos ads are the most common on Instagram, video has gained a lot of traction. In fact, 25% of Instagram ads are single videos. Video ads are most effective at getting higher engagement rates but tend to cost a bit more than photo ads.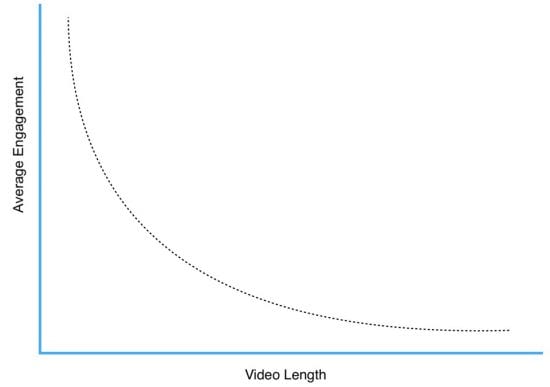 6. There are 2 Million monthly advertisers on Instagram (Instagram, 2017)
According to Instagram time spent watching video on Instagram is up more than 80% year over year, while the number of videos produced per day has increased by 4X from the last year1. This is a great opportunity for businesses to connect with their audiences, whether on-the-go or in the moment.
7. 7 out of 10 hashtags on Instagram are branded (Sprout social, 2017)
Hashtags for Instagram help followers discover your content and user-generated content. Brand hashtags can help build community and can be important for the acquisition and promotion of Instagram content.
8. Time spent watching video on Instagram is up more than 80% year over year (Instagram, 2017)
Instagram video whether its a post, story or live streaming, presents a new opportunity for brands providing yet another way to communicate with their followers.
9. 59% of Instagram users are 18 to 29 year old  (Smart Insights, 2017)
This demographic is more likely to purchase and convert than the under 18 demographic. If your audience sits in the 18-29 bracket consider using Instagram stories to convert and increase your sales.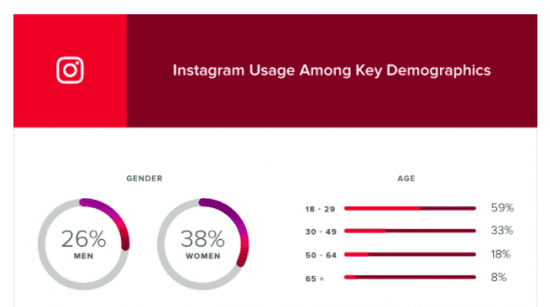 10. Instagram Stories Has More Than 250 Million Active Daily Users (Sprout social, 2017)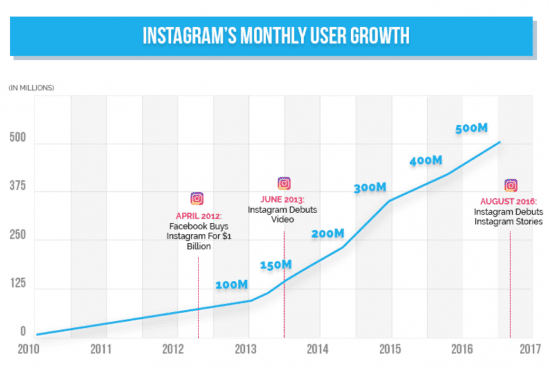 11. 80% of users follow 1 or more brands on Instagram (Instagram, 2017)
As more and more brands turn to Instagram to promote their products, the more competitive the platform will become. Make sure your content is standing out from the crowd, see how these brands have nailed their Instagram marketing for inspiration.
12. Posts with at least one hashtag average 12.6% more engagement (Hootsuite, 2017)
Hashtags are one of the best ways to get your posts seen on Instagram. They can help pull your social media posts into topic-specific feeds, which can reach audiences beyond your current followers. One of the ways people find content on Instagram is to search with hashtags. It's very rare to find an Instagram post without a hashtag in the caption.
13. The best time to post on Instagram for the most engagement is at 2am or 5pm on Mondays or Thursdays (CoSchedule, 2017)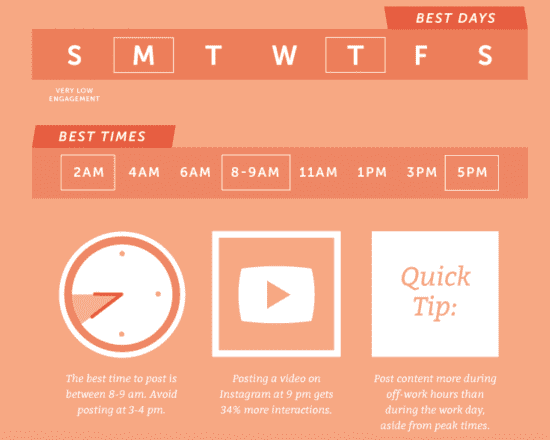 14. A recent study suggested that it is far more effective to keep your hashtag count to less than 10 hashtags per post (Smart Insights, 2017)
If you were to use relevant hashtags and keep the count below 10, it is suggested you could reach up to 25,000 engagements per post. Therefore as a general rule of thumb aim for around 5 hashtags that are relevant and specific.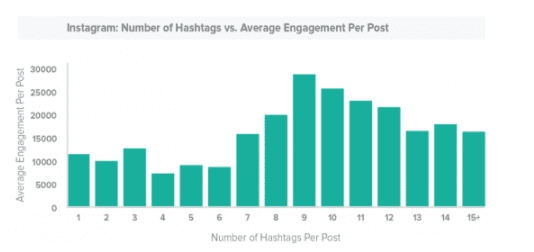 15. Posts with a location get 79% more engagement (Sprout social, 2017)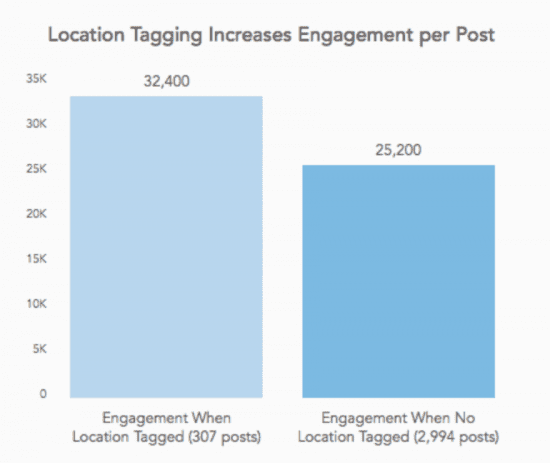 16. 75% of Instagram users take action, such as visiting a website, after looking at an Instagram advertising post (Hootsuite, 2017)
According to Instagram, 50% of Instagram users follow at least one business, 60% say that they learn about a product or service on the platform, and 75% of Instagram users take action, such as visiting a website, after looking at an Instagram advertising post. If you're looking to spread the word about your business, fast, Instagram might be a good place to invest your time and energy.
17. 48% of all US brands used Instagram to market their business, brand or product (Instasurge, 2017)
This number skyrocketed to 71% in 2017. According to eMarketer, it is projected 82% of all US businesses will use Instagram to reach customer by 2018.
18. It has been predicted Instagram will top 100 million US users by 2018 (eMarketer, 2017)
 
19. 35% Of Instagram's 700 million users are creating and viewing videos via Stories (Mediakix, 2017)
Since the release of Instagram stories, it now has 250 million active users per day. That compares to Snapchat's total 166 million daily actives for its entire app and Instagram's total 700 million monthly users.
20. 2x as many Instagram Stories are posted by brands than Snapchat Stories  (Mediakix, 2017)
Instagram's success is due to using what Snapchat was already doing and just scaled the app more quickly, leaving Snapchat playing catch up. If you're engaging with your audience and your customers on Snapchat, don't stop because Instagram might be more popular. Both platforms offer creative and new ways to engage your audience and are important to your business' social media presence. Find out which platform is most suitable for your audience.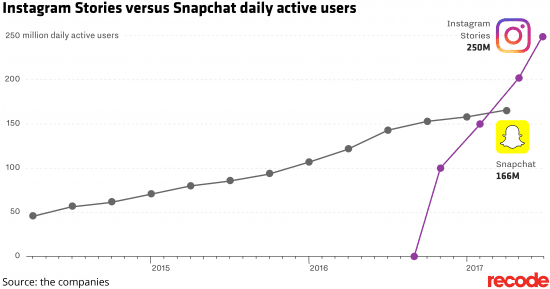 Instagram can be a powerful platform if used right, so it's important to keep on top of the latest trends and features. What are the most interesting Instagram stats you've found? Let us know and tweet us yours.
This article was originally published at SmartInsights.com, by author Jessica Wade.